Approach, Highlights and Accomplishments
Changing the Way We CareSM (CTWWC) India is focused on preventing the separation of children from their families and their institutionalization, using a family strengthening approach. This is implemented through collaboration with others, building the capacity of partners, data collection and knowledge sharing. CTWWC works primarily in the Indian State of Odisha.
Our initiative in India is currently much smaller relative to our other demonstration counties. However, additional funding could make a much greater impact for children and families. The CTWWC initiative works through a local partner in Odisha to:
establish and strengthen community-level groups that make decisions about children's care by setting up Village Child Protection Committees (VCPCs). VCPCs are community groups made up of service providers, community leaders and families who identify, plan, and act upon child protection risks in their villages.
create awareness campaigns on the harmful impact of child separation and institutionalization.
support local authorities and partners in developing a child protection plan that includes preventing child separation and institutionalization, taking into consideration the Covid-19-caused socio-economic fallout.
promote family strengthening of at-risk families in collaboration with local district child protection providers.
adapt our programming to serve children and families impacted by the COVID-19 pandemic and provide virtual monitoring, food and cash assistance.
In addition, the CTWWC team works to:
influence national policy and practice around children's care through collaboration, engagement in working groups, and research.
improve the capacity and sensitivity of those that work with children and families.
support a compilation toolkit on emerging practices in care reform and contribute to research and policy discourse in collaboration with the India Alternative Care Network (IACN).
engage with CCIs managed by faith-based communities and work to transition them to family support centers together with the existing church structure and government.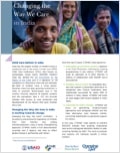 Want more information? Here's a brief overview
Learn more about the situation for children separated from their families in India and how CTWWC is ensuring that every child thrives in a safe and nurturing family.
India
1.366B