Our Work in Moldova
Changing the Way We Care (CTWWC) Moldova works with governments, civil society, and faith-based communities to change how we care for children and families. By strengthening systems, improving policies, investing in the care workforce, and engaging diverse stakeholders, CTWWC is building a movement in which all children can grow up in safe, nurturing family environments.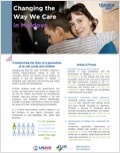 Want more information? Here's a brief overview
Learn more about the situation for children separated from their families in Moldova and how CTWWC is ensuring that every child thrives in a safe and nurturing family.
Moldova
2.6M