Guatemala ranks 127th out of 187 countries in the world for quality of life. The life expectancy is 74 years and adults have an average of 10.8 years of schooling. The country's 90.6% incidence of poverty is intensified and illustrated by climate change, frequent drought, migration, and other issues. Almost half (47%) of all children in Guatemala under five years of age suffer from chronic malnutrition; one of the highest rates in the world. Public investment in children and adolescents is the lowest in the region.
A 2019 report on residential care found that "poverty, family violence, migration and limited access to basic services like health and education are factors that result in family separation." The same study found 3,800 children and adolescents living in residential care across Guatemala. However, 9 out of 10 of those children have at least one living parent reflecting global trends.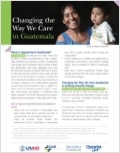 Want more information? Here's a brief overview
Learn more about the situation for children separated from their families in Guatemala and how CTWWC is ensuring that every child thrives in a safe and nurturing family.
Guatemala